In The Box
Sony 100mm f/2.8 Alpha A-Mount Macro Lens (SAL100M28)
Sony Front & Rear Lens Caps
Sony Lens Hood
Product Features
Sony 100mm f/2.8 Alpha A-Mount Macro Lens (SAL100M28)
The 100mm f/2.8 AF Macro Autofocus Lens from Sony is a mid-telephoto macro lens that focuses as close as 1.2' away from your subject, with a maximum reproduction ratio of 1:1 - meaning your subjects can appear life-size in these close-up images. It is compatible with Sony Alpha and Minolta Maxxum SLR cameras. Its double-floating element design eliminates aberrations and ensures sharp, high-contrast results.

Its circular f/2.8 aperture provides a natural-looking, round bokeh background effect, and allows you to shoot in darker conditions due to the bright wide-open aperture. With it you can walk up to your subject and capture images from just over one foot away, in outstanding clarity and detail. It also has a 55mm front filter thread so you can attach accessory filters onto it for protection and effects.
APS-C 35mm Equivalent: 150mm

This 100mm lens has the 35mm equivalent viewing angle of a 150mm lens, when attached to cropped APS-C cameras.
Aperture Range: f/2.8-32

With a maximum aperture of f/2.8 and minimum of f/32, this lens' high speed means you can capture images in darker conditions using faster shutter speeds and lower ISO sensitivity.
Minimum Focus Distance: 1.2'

Using this lens' full potential, you can get close-up images from just a foot away for exceedingly blurred backgrounds and sharp details.
9x Circular Aperture Blades

Circular aperture blades produce smooth, rounded bokeh background effects when capturing spot-light sources in your pictures. Because the aperture blades form a near circle at the wide openings used for low-light shots, spot-light sources have a pleasing circular defocused effect.
Filter Diameter: 55mm

The 55mm front filter thread does not rotate, allowing rotating polarizing filters to be used.
Auto Clutch Manual Focus Ring

Thanks to this lens' Auto Clutch, the manual focus ring does not rotate in auto-focus mode which improves handling and prevents you from accidentally changing your focus.
Focus Hold & Range Limiter Buttons

This lens is made with a Focus Hold button and Range Limiter, which offer better focus control and performance whenever you need it. Switch between auto and manual focusing for more speed or precision, and then lock the focus to keep it right where you want it. Then, using the Range Limiter, tell your lens which end of the focusing range you want it to use in order to limit the amount of seeking time it has to do and increase AF performance.
Distortion
Typical for all macro lenses the Sony 100mm f/2.8 macro produces images which are basically free of distortion (0.03%).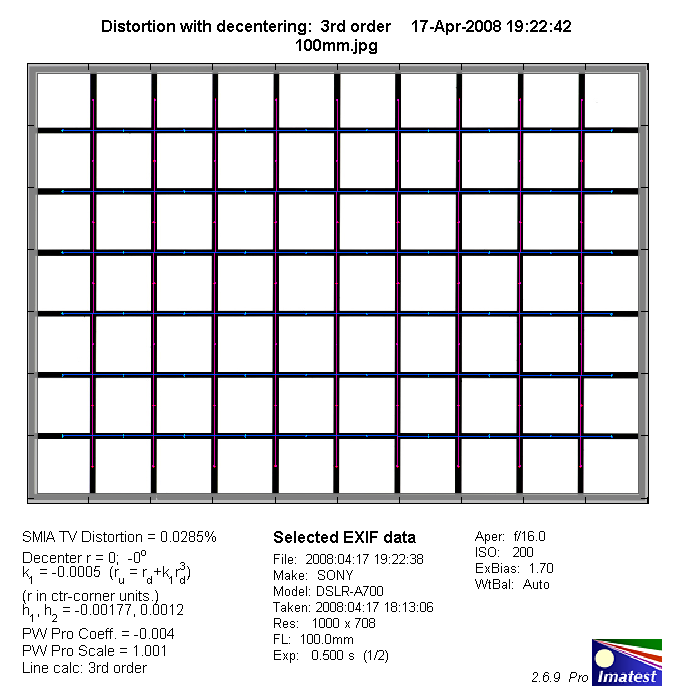 The chart above has a real-world size of about 120x80cm.
Vignetting
The Sony 100mm f/2.8 is a full format lens and as such enjoying the usual sweet spot advantage when used on an APS-C DSLR. Within this scope the lens shows already marginal vignetting at f/2.8 (0.3EV) and the problem is absolutely negligible from f/4 onwards.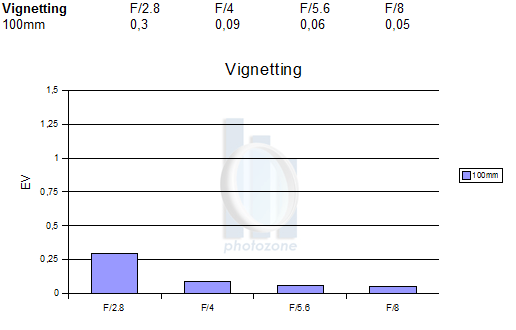 MTF (resolution)
The Sony 100mm f/2.8 macro produced very good to excellent resolution figures in the MTF lab. At f/2.8 the quality is already on a very high level and you can squeeze out a little more when stopping down to f/5.6, the excellent sweet spot of lens. Typical for all lenses diffraction has stronger impact beyond f/11. The results are still perfectly usable at f/16 but f/22 is beyond the edge. The rather low numbers @ f/22 suggest a smaller effective aperture than indicated at this setting (probably f/27ish). In theory you can stop down to f/32 but don't expect an acceptable quality level here anymore.
Below is a simplified summary of the formal findings. The chart shows line widths per picture height (LW/PH) which can be taken as a measure for sharpness. If you want to know more about the MTF50 figures you may check out the corresponding Imatest Explanations
Chromatic Aberrations (CAs)
Lateral chromatic aberrations (color shadows at harsh contrast transitions) are very well controlled with an average pixel width between 0.27px and 0.53px at the image borders. Generally this is nothing to worry about in field conditions.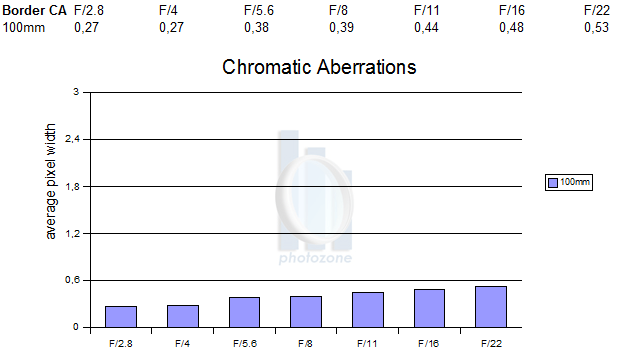 Bokeh
The quality of the bokeh is a primary playground for a macro lens and the Sony lens is capable of producing very decent results here. The circular aperture shape in out-of-focus highlights remains perfectly intact at f/2.8 and f/4. There's a bit of a one-sided outlining effect. The blur is very smooth and uniform. However, you may also notice the rather massive amount of longitudinal chromatic aberrations in the cards - more on this in the next chapter.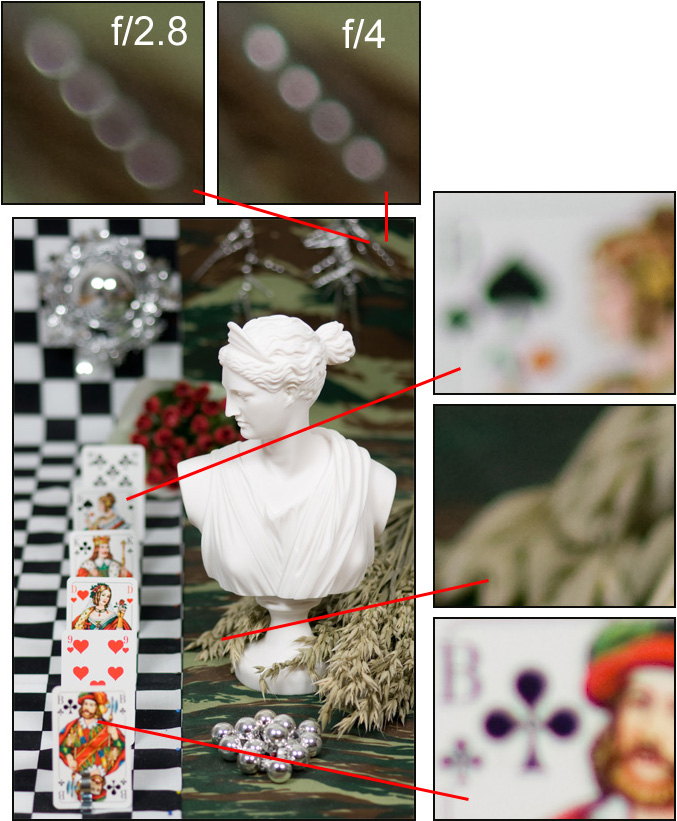 Longitudinal (Axial) Chromatic Aberrations (LoCA)
LoCAs (non-coinciding focal planes of the various colors), sometimes called "bokeh CAs", can be a problem in field conditions. As you can notice below the halos have different colors - magenta (red + blue) in front the focus point and green beyond. The problem is rather pronounced at f/2.8 and f/4 and still visible at f/5.6. This is not overly impressive.
Move the mouse cursor over the f-stop marks below to observe the respective LoCAs
f/2.8
f/4
f/5.6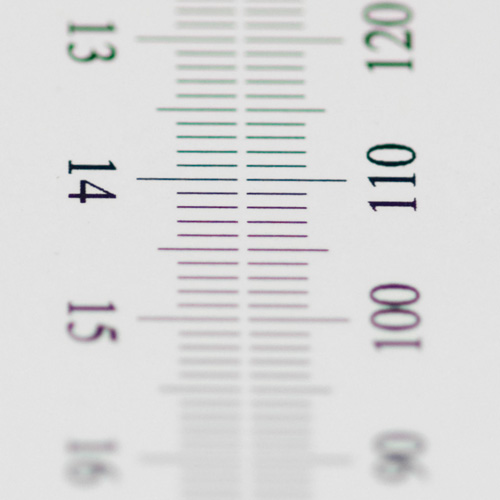 Verdict
The Sony 100mm f/2.8 macro is able to produce very sharp results combined with a negligible amount of distortions, vignetting and lateral CAs. However, longitudinal (axial) chromatic aberrations can be quite a problem in out-focus areas (f/2.8-f/5.6) resulting in a magenta to greenish tint in some situations - this is not unusual but unfortunate nonetheless. The build quality of the lens is fine although it doesn't win any crown when looking towards the competition a la Micro-Nikkor AF-S 105mm f/2.8 VR or the Canon EF 100mm f/2.8 USM macro. Same goes for the AF speed which does still rely on the slotted drive screw rather than Sony's faster SSM (ultrasonic AF drive).
Product Specification
Sony 100mm f/2.8 Alpha A-Mount Macro Lens (SAL100M28)
Performance
Focal Length
100mm
Comparable APS-C Focal Length: 150 mm
Aperture
Maximum: f/2.8
Minimum: f/32
Camera Mount Type
Sony Alpha, Minolta AF
Format Compatibility
35mm Film / Full-Frame Digital Sensor
DSLR (APS-C Sensor)
Angle of View
24°
Minimum Focus Distance
1.2' (36.58 cm)
Magnification
1x
Maximum Reproduction Ratio
1:1
Elements/Groups
8/8
Diaphragm Blades
9
Features
Image Stabilization
No
Autofocus
Yes
Tripod Collar
No
Physical
Filter Thread
Front:55 mm
Dimensions (DxL)
Approx. 2.95 x 3.90" (7.5 x 9.9 cm)
Weight
1.11 lb (505 g)