In The Box
Samsung NX2000 Mirrorless Digital WIFI Camera
- Samsung Lens 20-50mm f/3.5-5.6 Compact Zoom Lens
Samsung Hot Shoe Mount Flash Unit
Samsung Lithium-Ion Battery
Samsung Wall Charger
Samsung Body Cap
Samsung Lens Cap
Adobe Lightroom Software
1Year Warranty
Product Features
Samsung SMART CAMERA NX2000
* Actual product may differ than product image shown.
More than just taking pictures, with the Samsung NX2000, you're telling stories. An ultra-sensitive 20.3MP APS-C CMOS sensor allows you to create images full of detail and colours that fire up the imagination. And the spacious 3.7"(93.8mm) WVGA touch screen gives you plenty of room to hone your craftsmanship, making it ideal for photography enthusiasts like you. And since your photos should be as easy to back up as they are to create, AutoShare simultaneously sends every photo you snap to your smartphone. You'll now have an extra copy of your photos that you can effortlessly share with friends and family.
20.3MP APS-C CMOS Sensor
You may not be a professional photographer, but with the 20.3MP APS-C CMOS sensor, you can easily shoot like one. The sensor offers the highest resolution in its class to help you capture high-quality images with lifelike colours. And since the sensor is also the largest used in a mirrorless camera—measuring 23.5mm x 15.6mm—it collects the most light. That makes the sensor perfect for outfocusing photography, and for shooting images without noise in low-light situations.
* The largest touch screen available in the interchangeable lens compact system camera (CSC) category as of May 2013.
3.7"(93.8mm) WVGA Touch Screen
The NX2000 boasts the largest screen in its class, with a stunning 3.7"(93.8mm) WVGA display that serves up plenty of space for reviewing and editing your masterpieces. You get full touch-screen action, with no physical menu buttons taking up valuable real estate. The display offers up the full spectrum of colours, so what you see on the screen matches what you shoot.
Save photos to your camera and smartphone as you shoot
AutoShare
Send every picture you take to your mobile phone via Wi-Fi connection in a snap - to make backing up and sharing your high-quality photos super easy. Set up AutoShare once and the camera saves it as the default setting. AutoShare also GPS tags your photos with your Smart Phone.
You just cannot imagine Samsung NX2000 can do so many as follows:
Faster and more convenient with the embedded wi-fi hot key functionality
DIRECT LINK
Assign your DIRECT LINK button according to your needs and purpose with the embedded DIRECT LINK Wi-Fi hot key functionality to immediately launch into your most favoured activity – AutoShare, MobileLink, Remote Viewfinder, SNS " Cloud, Auto Backup, Email, and More!
Camera, smartphones and tablets - the easiest way to share

MobileLink
Now you can select and send an image or album directly to an Android smartphone, iPhone or tablet with the Samsung MobileLink. You don't even have to send the image as a text message or as an email. With MobileLink, you can control the album on your phone and the changes will be saved to your camera, too.

Remotely control your camera from a smartphone

Remote Viewfinder
Control your camera by using your smartphone as the viewfinder. Remote Viewfinder lets you preview images, adjust the camera settings, zoom in and out and frame each scene— all from your phone, wirelessly. This feature is available for select smartphones.

Connect to your camera faster-one touch, three apps

Samsung SMART CAMERA App.
Download the Samsung SMART CAMERA App. which features- Remote Viewfinder, AutoShare, and MobileLink – without having to download each app individually. Rather than launching the apps one at a time on your smartphone, you can open all three apps at once, with the touch of a finger. With NFC (Near Field Communication) enabled devices, users are more intuitive and secure, while being able to share contents much faster and more easily. (Supports Android OS 2.3 and above devices, does not support iOS devices)

Seamless sharing and play- across all devices

AllShare Play
AllShare Play lets you connect to all devices that support AllShare Play. You can wirelessly stream photos and videos from your camera to nearby devices to share with friends and family at once, or simply upload to Web Storage instantly for easy management. Enjoy the freedom of sharing with AllShare Play!

Never lose your valuable memories

Cloud
With Cloud, you'll never run out of room in your memory card or lose valuable pictures, even on the go. Wirelessly save images to a cloud service such as Microsoft Skydrive or a regional cloud provider, then view them anytime on your smartphone, tablet or download them to your PC later.

Share with the world, anywhere in the world

Social Sharing & Email
You can instantly email or post must-see images and videos to your favorite social networks. Just select and upload wherever you have a Wi-Fi connection, and then add tags and comments. Share with your Blogger followers, or post to Facebook, Picasa or YouTube — and many more social networks.

Shoot once. Save forever & Print Them for ever Lasting Fond Memories

Auto Backup
Wirelessly transfer photos and movies to your PC or Mac. Simply choose AutoBackup and you're all set. All your photos and videos are transferred wirelessly and safely stored on to your computer. Feel free to delete photos from your camera knowing there's a duplicate set on your computer.

Get firmware notifications pushed to your camera

Software Upgrade Notifier
When a firmware update is available for the Samsung SMART CAMERA and you connect to a Wi-Fi network, a notification window will pop up on the camera's screen. Connect your camera to your PC for the upgrade, and start using the latest features without delay.

The simple and instant way to share

NFC
The NX2000 takes photography to a whole new level by making it faster and easier to connect the camera to your smartphone or tablet with NFC (Near Field Communication). NFC automatically secures a Wi-Fi connection for you, so you can share what you capture. Place the device near the camera to find and easily activate the Samsung SMART CAMERA App.

* If the app is not installed on your devices, you will be directed to the App Store where you can install the app.

The easiest way to shoot like a pro

Smart mode
The pictures you take will tell stories that rival those created by the pros. Smart Mode settings such as Waterfall and Light Trace enable you to photograph the beauty of cascading water or flowing light trails. Use Action Freeze to capture the intensity of a car race, or merge various exposures with Rich Tone to create evocative images. Let Creative Shot enhance the emotion of any scene or moment you capture.

Add pop to your movies and stills

3D Still & Moive Recording
Make vacation stills and videos pop off the screen with True 3D Creator. The interchangeable-lens system of the Samsung SMART CAMERA NX2000 lets you shoot stills and movies in 3D via Samsung 45mm 2D / 3D lens. When you're done shooting, let your friends back home feel as if they were there with you, by showing off your stunningly vivid adventures on a compatible 3D HDTV.

Discover the true beauty of Full HD video

1080 30p Full HD Movie Recording
The Samsung SMART CAMERA NX2000 may not look like a camcorder, but it capably captures Full HD 1080 / 30p video. With uncompromising performance bolstered by an 18-200mm lens and wide zoom capability, the Samsung SMART CAMERA NX2000 delivers smooth, professional-looking videos that play well on your HDTV. When you're ready for showtime, an HDMI interface lets you transmit your vision straight to the big screen.

Capture the moments within a moment

8fps continous shooting
When you're shooting fast-moving action, effortlessly capture the entire sequence with a series of brilliantly clear stills. The Samsung SMART CAMERA NX2000 lets you shoot continuously at an ultra-fast rate of 8.6 frames per second to ensure you get the shot you want. The advanced autofocus system brings crystal clarity to fast-moving subjects, and a short shutter release lag helps you capture the fleeting moment before the subject moves out of frame.

Clearer low-light shots with a wider ISO
range

ISO 100 – 25600
Even in the dark, you can capture a natural-looking portrait with amazing colour retention and detail. The upgraded Wide Range ISO of the NX2000 lets you shoot up to ISO 25600, making it more sensitive to light than the previous model, which produces much clearer images. Shoot in the dark—indoors and out—and enjoy photos with minimal noise and blurring.

DRIMe IV New image engine

Whether you're shooting 2D or 3D, the DRIMe IV image processor accurately captures all the special moments in amazing quality. It's faster and improved colour reproduction and noise reduction performance ensures you'll treasure your memories with enhanced Full HD movie quality.

1/4000 sec shutter speed

You have a split second to take the shot your family will be talking about for generations. With a shutter speed of 1/4000s—and fast autofocus system—the Samsung SMART CAMERA NX2000 lets you capture a cyclist whipping by or a skateboarder in midair, without a hint of motion blur.

i-Function

The i-Function system makes it easy to adjust key camera settings through a single button and the value ring located on the lens, instead of the body. Designed for the novice and expert alike, i-Function lets you quickly choose the settings that best fit the moment—and your expertise.

Adobe Photoshop Lightroom 4

Adobe Photoshop Lightroom 4 is the perfect match with the NX2000 to bring out all the details for crisp professional looking photos. Organise photos by the location they were taken with GPS tagging. View and make adjustments to video clips, turn them into still images, or trim and edit according to your needs.
Product Specification
Samsung SMART CAMERA NX2000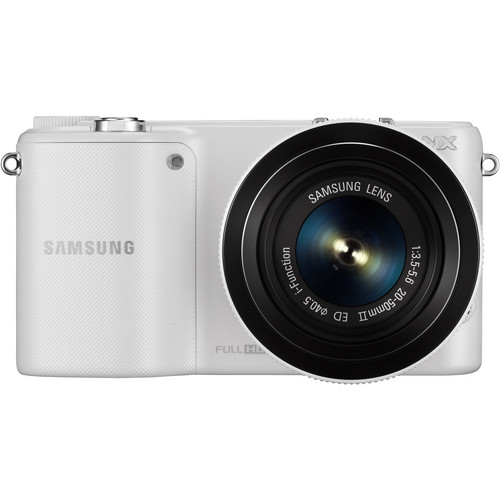 Image Sensor
CMOS Image Sensor
23.5 x 15.7mm Sensor Size
Approx 20.3 Megapixels
Approx 21.6 Megapixels
RGB Primary Colour Filter
Distortion Correct
Mode: LDC On / Off (Depends on Lens)
Display
TFT-LCD with Touch Panel (C-type Touch Control Enabled)
93.8mm (3.7") Size
WVGA ( 800x480 ) 1152k dots
Approx 100% Field of View
Grid (4types), Histogram, Icons: On / Off, Distance Scale: ft / m / Off
Exposure
TTL 221 (17x13) Block segmentMetering: Multi, Centre-weighted, Spot Metering range: EV 0-18 (ISO 100 - 30mm,F2)
± 3 EV (1/3 EV Step)
AEL Touch Button
Auto, 100 ~ 25600 (1 or 1/3EV step) * AUTO ISO upper level is selectable. (Up to ISO 3200)
White Balance
Auto, Daylight, Cloudy, Fluorescent (W, N, D), Tungsten, Flash, Custom, K (Manual)
Micro Adjustment: Each 7 Steps in Amber / Blue / Green / Magenta Axis
Shooting
Auto, Smart, Expert (Programme, Aperture Priority, Shutter Priority, Manual), Custom, Wi-Fi
Beauty Face, Landscape, Macro, Action Freeze, Rich Tone, Panorama, Waterfall, Silhouette, Sunset, Night, Fireworks, Light Trace, Creative Shot, Best Face
Vignetting, Minature, Coloured Pencil, Watercolour, Wash Drawing, Oil Sketch, Ink Sketch, Acryl, Negative, Selective Colour (R / G / B / Y 4 Colours)
JPEG (3:2):20M (5472x3648), 10.1M (3888x2592), 5.9M (2976x1984), 2M (1728x1152), 5M (2736x1824): Burst mode only JPEG (16:9):16.9M (5472x3080), 7.8M (3712x2088), 4.9M (2944x1656), 2.1M (1920x1080) JPEG (1:1):13.3M (3648x3648), 7M (2640x2640), 4M (2000x2000), 1.1M (1024x1024) RAW: 20M (5472x3648)* 3D using 45mm 2D / 3D Image Size : JPEG (16:9) 4.1M (2688x1512), (16:9) 2.1M (1920x1080)
Super fine , Fine, Normal
SRW (ver.2.0.0)
sRGB / Adobe RGB
Storage
MicroSD, MicroSDHC, MicroSDXC, UHS-1 MicroSD Support
RAW (SRW ver2.0.0), JPEG (EXIF 2.21), MPO (3D), MP4 (Movie), DCF, DPOF 1.1
20M: RAW 3920M (3:2): Super Fine 130, Fine 163, Normal 21710.1M (3:2): Super Fine 277, Fine 356, Normal 5055.9M (3:2): Super Fine 471, Fine 570, Normal 7272M (3:2): Super Fine 1053, Fine 1426, Normal 1941 Burst (5M): Super Fine 430, Fine 514, Normal 63816.9M (16:9): Super Fine 153, Fine 190, Normal 2517.8M (16:9): Super Fine 346, Fine 417, Normal 5684.9M (16:9): Super Fine 512, Fine 670, Normal 8962.1M (16:9): Super Fine 1015, Fine 1349, Normal 170013.3M (1:1): Super Fine 217, Fine 227, Normal 2847M (1:1): Super Fine 336, Fine 465, Normal 5924M (1:1): Super Fine 559, Fine 752, Normal 12031.1M (1:1): Super Fine 2149, Fine 2471, Normal 2819Movie: 1920x1080 30p: High Quality 17m 21s, Normal 21m 44s 1920x810 24p: High Quality 21m 11s, Normal 26m 31s 1280x720 60p: High Quality 16m 33s, Normal 20m 42s 1280x720 30p: High Quality 28m 38s, Normal 35m 53s 640x480 30p: High Quality 70m 48s, Normal 88m 58s 320x240 30p: High Quality 213m 41s, Normal 271m 09s * These figures are measure under the Samsung standard.*
NFC
Yes
Physical Specification
119 x 64.5 x 35.7 (21.9) mm (excluding the projection part)
228 g (without battery)
0 - 40°C Operating Temperature
5 - 85% Operating Humidity
System Requirement
PC with processor better than Intel Core 2 Duo 2GHz / AMD Phenom 2.4GHz or higher Minimum 512MB RAM (Over 1GB recommended) Windows XP SP2 / Vista / 7 / 8250MB of available hard-disk space (Over 1GB recommend) USB 2.0 port CD-ROM drive nVIDIA Geforce 7600GT or later / Ati X1600 series or later 1024x768 pixels, 16-bit colour display compatible monitor (1280x1024, 32-bit colour display recommended) Microsoft DirectX 9.0c or later
Mac OS 10.5 or higher (except PowerPC) Minimum 256MB RAM (Over 512MB recommended) Minimum 110MB of available hard-disk space USB 2.0 port CD-ROM drive
Lens
Samsung Lenses for Samsung NX Mount
Mount: Samsung NX Mount
i-Function
i-Zoom (x1.2, 1.4, 1.7, 2.0)
Focusing
Contrast AF
Single AF, Continuous AF, MF, Touch AF&Shutter
Selection: 1point (Free selection) Multi: Normal 21points, Closeup 35points Face Detection: Max. 10 faces Object Tracking AF
Yes
Drive Mode
Single, Continuous, Burst (5M size only), Self-timer, Bracket (AE / WB / PW)
JPEG: High (8fps) , Normal (5fps) selectable Burst: 10, 15, 30fps selectable, 30 shots by 1 release RAW: High (8fps), Normal (5fps) selectable
Auto Exposure Bracket (± 3 EV) / WB / PW
2 - 30 sec (1 sec Step)
SR2NX02 (via Micro USB port) (Optional)
Dynamic Range Expansion
Image Play
Type: Movie / Single Image / Slide Show / Thumbnails (3 / 9 / 20 Images)
Back Light Comp. / Face Retouch / Photo Style Selector / Red Eye Fix / Resize / Rotate
Miniature / Fish-Eye / De-fog / Halftone Dots / Soft Focus,JPEG (3:2): 6M (3008x2000) / 2M (1920x1280) / VGA (640x424), JPEG (16:9): 5M (3008x1688) / 2M (1920x1080) / VGA (640x360),JPEG (1:1): 4M (2000x2000) / 1.6M (1280x1280) / VGA (480x480)
Languages
29 Languages (Korean, English, Danish, German, Dutch, Swedish, Spanish, Italian, Czech, French, Portuguese, Polish, Finnish, Russian, Norsk, Simplified / Traditional Chinese, Arabic, Persian, Turkish, Hebrew, Thai, Greek, Hungarian, Estonian, Lithuanian, Latvian,Serbian, Croatian)
Interface
USB 2.0 (micro USB Jack)
NTSC, PAL (user selectable) HDMI (1.4a)
External Release available
DC 5V, 1A via Micro USB port
S/W and PC OS
Adobe Lightroom, iLauncher
Image Stabilisation
Lens Shift (Depends on Lens)
Mode: OIS Mode1 / Mode2 / OFF
Dust Reduction
Super Sonic Drive Dust Reduction Type
Shutter Speed
Electronically Controlled Vertical-Run Focal Plane Shutter
Auto: 1/4000sec. ~ 30sec. Manual: 1/4000sec. ~ 30sec. (1/3 EV Step) Bulb (Limit time: 4min.)
Flash
External Flash only (Bundle with SEF8A)
Smart Flash, Auto, Auto+Red-eye reduction, Fill-in, Fill-in+Red-eye reduction, 1st Curtain, 2nd Curtain, Off
8 Guide Number (at ISO 100) (SEF8A)
28mm Wide-Angle of View Coverage (Equivalent to 35mm)
Less than 1/180 sec Sync. Speed
-2 - +2EV (1/2EV step)
Samsung External Flash available
Hot Shoe Synchro (Flash Attachment)
Picture Wizard
Standard, Vivid, Portrait, Landscape, Forest, Retro, Cool, Calm, Classic, Custom (1 ~ 3)
Contrast, Sharpness, Saturation, Colour
Movie Clip
MP4 (H.264)
Movie: H.264 , Sound: AAC
Program, Aperture Priority, Shutter Priority, Manual
With Audio or without Audio (user selectable, recording time: 29 minutes 59 seconds)
Vignetting, Minature, Coloured Pencil, Watercolour, Wash Drawing, Oil Sketch, Ink Sketch, Acryl, Negative, Selective Colour (R / G / B / Y 4 Colours) (1920x1080, 1920x810, 1280x720, 640x480, 320x240 )
1920x1080, 1920x810, 1280x720, 640x480, 320x240 for Sharing (Default: 1920x1080) (* 1920x1080 only with 3D lens)
30fps, 24fps (1920x810 Only) (* 3D Lens 30fps Only)
x0.25 (640, 320 only), x0.5 (1280, 640, 320 only), x1, x5, x10, x20
Quality: High Quality , Normal
Stereo Sound
Still Image Capture, Time Trimming
GPS
Geo-Tagging with Option GPS Module (WGS84)
Location Name (OSD) (English and Korean only), Google Map Link (with Intelli-Studio)
Power
Rechargeable battery: BP1130 (1130mAh)
170 min / 340 shots (CIPA Standard)
Wireless
IEEE 802.11b/g/n support (Smart Camera 2.0) . AutoShare . SNS & Cloud (Microsoft Sky Drive Cloud) . Email . Auto Backup . Remote Viewfinder (Touch AF Video Quality - QVGA ↔ VGA) . Mobile Link . Wi-Fi Direct (playback) . Samsung Link (TV Link, Samsung Cloud)