In The Box
Samsung Galaxy Tab3 8" LTE T3150 Internal Memory 16GB (White) Original
- under the Warranty of Samsung Malaysia
Product Features
GALAXY Tab 3 (8") 4G & WIFI
SM-T3150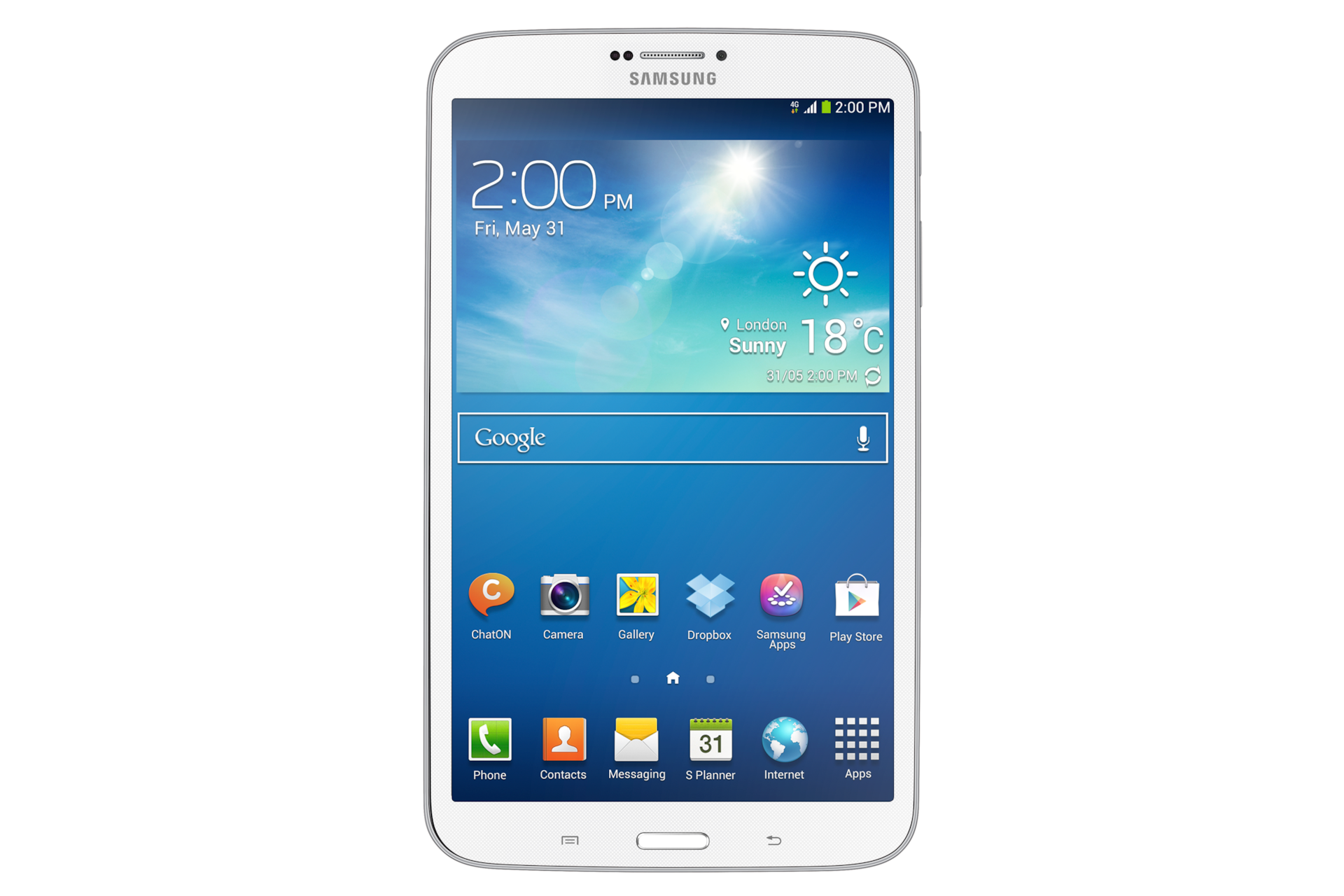 The Galaxy Tab 3 8.0 is the best of two worlds. It brings together portability, with a compact design that is only 7.4mm in thickness, and amazing power through its 1.5GHZ Dual core processor. It then comes to life with amazing features like a huge multimedia experience with smart controls like Group Play and the new Reading Mode, and other cool applications like WatchON and Samsung Hub. Add to this the brilliant WXGA screen and Samsung Sound Alive TM and Dolby Sound Effect, and you have a device that makes downtime a lot more fun.
Best-in-class Portability with slim&light design
Outstandingly thin with a wide screen, the GALAXY Tab 3 8.0's dimensions have been calibrated to offer the best grip with smart usability so you feel secure taking your Tab with you everywhere. Just grab it and go! The slimmer bezel ensures screen space is maximised for your entertainment as well as the convenient always-ready functional H / W keys, which offer a comfortable smartphone-like experience.
Amplified Performance with powerful functions
You'll experience no lag with the powerful 1.5GHz Dual Core Processor and generous 1.5GB RAM. Multi-task without hesitation! To maximise powerful experience, the brilliant display offers WXGA resolution for eye-popping colour and crystal clear clarity. Also Samsung Sound AliveTM and Dolby Sound Effect produce superior sound so dialogue is clear, volume levels are consistent and music playback is majestic. You can get the unbelievable performance even without compromising slim & light design. so you don't miss a scene while you get some work done!
Display Optimisation
This tablet has everything you need to enjoy your multimedia experience. Reading Mode automatically adjusts the screen to optimal levels to prevent eye strain when reading for prolonged periods of time. To make multi-tasking even easier, there's Dual View, which lets you view 2 screens at the same time, so no need to switch back and forth, just get a full view with one glance. Pop-up Video lets you get small tasks done while you watch a movie. A small screen pops up so you don't miss a scene while you get some work done. Group Play makes each user within a group easily share and create contents.
Enhanced Multimedia Experience
WatchON allows you to search for programs and gives you recommendations for content on TV, VOD and the Web. Play the content on your TV with just one click. Story Album looks great on the 8.0" wide screen, making the experience of editing for your own album a breeze. Samsung Hub gives you instant access to a massive library of content - including music, movies, games and book. All of these applications are exclusive to Samsung.