In The Box
Samsung External Microphone System NX-ED EM10 for
- Compatible for Samsung Digital Mirrorless NX2000 NX1000 NX300 NX210 NX20
- Compatible for Samsung Digital Smart Camera EX2F
Product Features
External Microphone System NX-ED EM10
Capture better audio with your NX Camera
• Capture high-quality audio with your NX Series camera
• Record sound using a choice of either Wide or Zoom modes
• Reduce wind noise outdoors with the included windscreen
• Carry it with you thanks to lightweight and compact design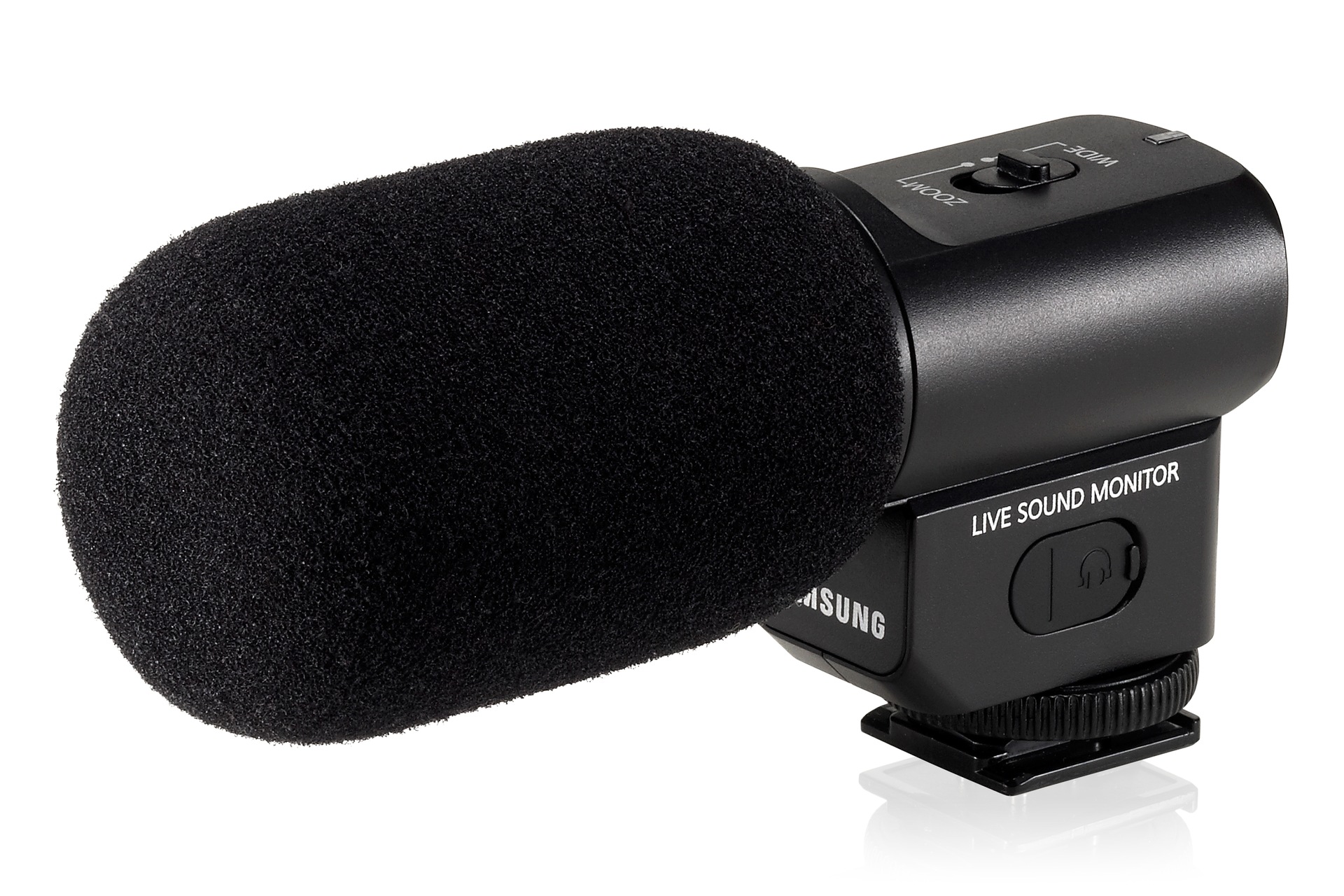 Boost the quality of the audio you capture with the Samsung NX Camera Microphone. You can choose between Wide Mode and Zoom Mode. Wide mode records stereo sound across a wider area, whereas The Zoom Mode records mono audio over a more narrow area to reduce background noise and isolate one source of sound. The included windscreen even allows you to cut wind noise when you are shooting outdoors.
Vivid Stereo Sound Capture
The gun-design and advanced stereo mean that the ED-EM10 can untangle confusing sound input and concentrate in recording vivid and clear sounds, giving you the perfect accompaniment to your filming.
Zoom and Wide Modes—Adjust the Sound Recording to the Shooting Conditions
With the ED-EM10, you get control and versatility thanks to the Zoom and Wide modes. If your sound source has a narrow and long range, you can enhance the directional performance with the Zoom mode, effectively reducing intrusive background noise. And when the source is close up with a wide sound-base, the Wide mode is perfect for capturing the complete vivid and crisp sound for you.
Live Sound Monitor and Built-in Wind Screen
For even better control, you can use the 3.5mm stereo mini jack to monitor the recording in real time. Together with the Wind Screen to exclude unwanted wind noise, your ED-EM10 gives you complete confidence in capturing the best quality sound to accompany your filming.
Compatible with NX Camera Systems
ED-EM10 can be used with the NX20 / 210 / 1000 / 300 / 2000 and succeeding models as well as the EX2F.
Accessory

Product Type: External Microphone
Available Camera: EX2F, NX20 / 210 / 300 / 1000 / 2000
Function: Zoom (Uni-directional)Stereo (Middle-side)
Power: Supplied by the camera
Colour: Black
Contents: External Microphone, Wind screen
Pin (Plug): 3 pole 3.5mm Stereo jack plug
Size: 97.5 x 57 x 28[mm]
Weight: 47g (with Wind screen)