In The Box
Nikon ME-1 Stereo Microphone with Windscreen / Case

Compatible for Nikon DSLR D610, D600, D300s, D4, D3s, D800, D3200, D5100, D5200, D5300, D7000, D7100

Compatible for Nikon Digital Cameras Coolpix P7000, P7700, P7100, P7800
Product Features
ME-1 Stereo Microphone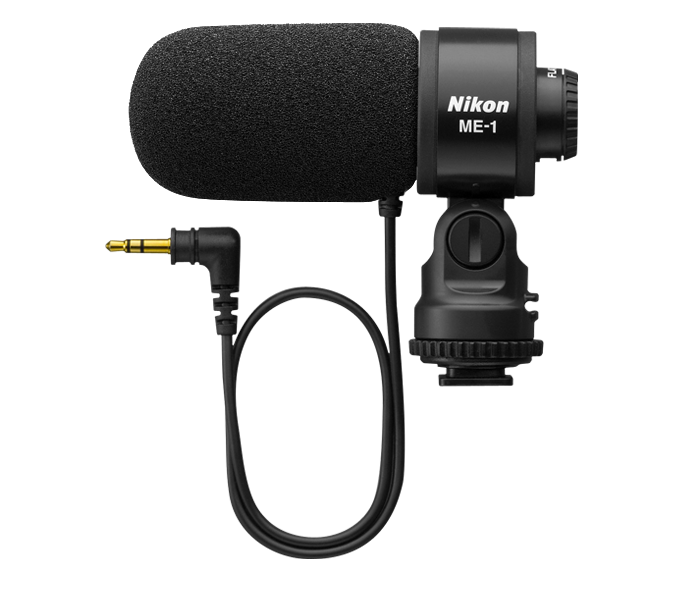 Designed for use with a compatible Nikon digital camera featuring a 3.5 mm (diameter) stereo mini-pin jack.
Nikon 1 V1 Users:
The AS-N1000 Multi Accessory Port Adapter must be used to attach the ME-1 Stereo Microphone to the Nikon 1 V1 camera body.
Low-cut filter reduces wind noise and other low-frequency noise not blocked by the wind screen.
Equipped with a cable stop which holds the cable in place to prevent noise from being recorded with accidental contact with the cable.
Reduces vibration noise during autofocus.
Compatible for Nikon DSLR D610, D600, D300s, D4, D3s, D800, D3200, D5100, D5200, D7000, D7100
Compatible for Nikon Coolpix P7000, P7700, P7100, P7800
Create higher-quality audio than your camera can alone with this stereo mic. The Nikon ME-1 Stereo Microphone is designed specifically for recording audio while making DSLR videos. The ME-1 fits into compatible camera shoes, and connects to the camera via the 3.5mm stereo mini-plug. A low-cut filter blocks wind noise, while the cable stop helps prevent noises caused by cable movement.
Designed for use with a digital SLR camera with a 3.5 mm (diameter) stereo mini-pin jack
Equipped with a cable stop which holds the cable in place to prevent noise from being recorded with accidental contact with the cable
Reduces vibration noise during autofocus
Low-cut filter reduces wind noise and other low-frequency noise not blocked by the wind screen