In The Box
Sony HDR-AS100VR POV Action Cam + Live-View Remote Bundle
Sony Live View Wireless Remote for Action Cam
Sony NP-BX1/M8 Rechargeable Lithium-Ion Battery Pack (3.6V, 1240mAh)
Sony SPK-AS2 Waterproof Case for Action Cam
Sony Action Cam Adhesive Mount Pack
Sony Micro-USB Cable
Sony Tripod Adapter
Free 32GB


Product Features
Sony HDR-AS100VRcAction Cam+ Live-View Remote Bundle
Record up to 1080 60p (50 Mbps) Video
Capture 13.5MP Stills with Photo Mode
Back-Illuminated Exmor R CMOS Sensor
Built-In GPS & Wi-Fi Connectivity
One-Touch NFC Smartphone Pairing
Included Housing is Waterproof to 16.4'
Wide-Angle ZEISS Tessar Lens
SteadyShot Image Stabilization
HDMI Output & Stereo Microphone Input
Memory Stick Micro & MicroSD/SDHC Slot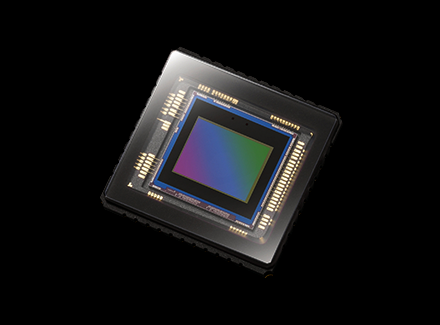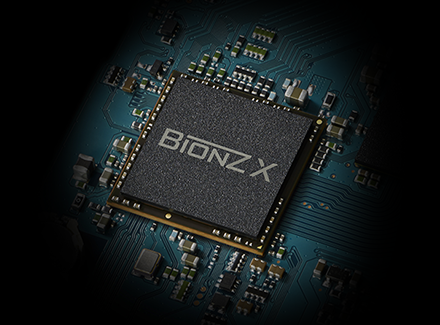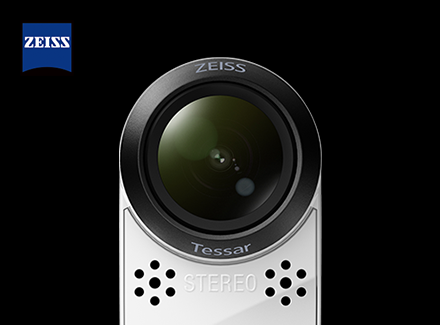 Take your movie adventures to extremes.
Gear up for extreme sports shooting with Action Cam advances. A specially-designed ZEISS lens for higher resolution and lower aberrations. Advanced Bionz X processor with 50Mbps high bit rate data transfer to turn fast action into smooth motion and high-quality HD footage. New Exmor R CMOS sensor with more pixels for noise-free shooting in dark places and at nighttime, using incident light alone. Action Cam with sensational-quality XAVC S transforms bold sports challenges into thrilling movies, with you as the action star.
*Micro SDXC Memory Card class 10 is necessary for recording in XAVC S format.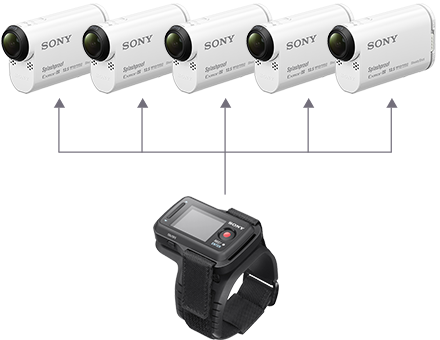 Control up to 5 cameras simultaneously.*
It's easy to capture scenes from multiple angles. Simply connect and control up to five HDR-AS100V units at the same time, using Live-View Remote RM-LVR1 worn on your wrist. You can monitor each cam at a glance, check shooting mode and cam status, start and stop all cams at once, and even change basic setup with one command.
*Supported by RM-LVR1 firmware ver. 2.00 or later.
Live-View Remote RM-LVR1 software update
The update adds Multi Camera Control, camera settings and more. New software is now available as a free download below.
*If your Live-View Remote software version is 2.00 (or later), you do not need to install this update.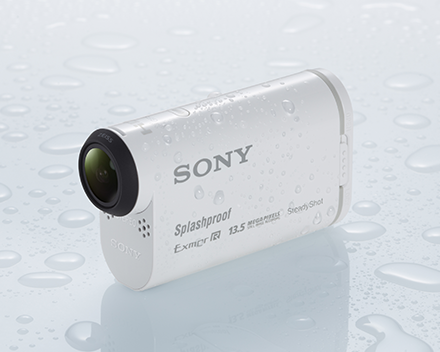 Discover splashproof shooting freedom.
No need to worry about rain, snow and splashes. HDR-AS100V provides IPX4-class splashproof performance without a waterproof case, so you can use the camera by itself, regardless of wet weather or puddles. What's more, just attach the supplied tripod adaptor directly to the camera body to connect other accessories. Then enjoy lightweight, compact cam use wherever action takes you.
Banish blur with new SteadyShot.
Want to mount Action Cam on bike handlebars, but concerned about camera shake? No problem! New electronic SteadyShot image stabilization powerfully compensates for bike vibrations in motion, enabling smooth, blur-free shooting. In addition, new SteadyShot enhances existing compensation for strong blur that occurs when the camera is worn during biking, skiing, surfboarding and more. Now, you can capture all kinds of fast-moving sports without disturbing camera shake, and share your own exciting, enjoyable action movies with family and friends.
Note: Effect of camera-shake blur compensation can vary depending on shooting conditions.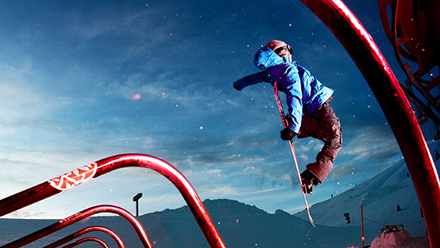 Boost movie thrills with high-speed REC.
Create exhilarating sports action movies with high-speed shooting at 120 fps and 240 fps. These sophisticated modes let you produce smoother slow-motion footage with editing software, and, unlike SSLOW, also enable sound recording. After shooting, just use your imagination and explore the fun of creative editing. Combine regular-speed and slow-speed sequences. Emphasize point-of-view and vary pacing. Use sound (or silence) to amp up excitement. Enjoy being Action Cam director, editor and lead actor in your personal adventure stories.
Enjoy pro functions and editing ease.
Get professional results with easy-to-use editing tools like those for pro cameras. Choose between "Vivid" image quality for brilliant, powerful Action Cam color scenes, or "Neutral" for more natural, flat-toned color. "Neutral" is also easy to work with in post-production color adjustment. Make the most of new time code* and user's bit* functions for simplified synchronization of movie footage at editing time. These functions are especially handy when working with multiple footage shot by several cameras or editing footage from a designated point.
Add to post-shooting enjoyment.
Create attractive movies easily with PlayMemories Home software:
Video Merge

Combine up to four* views of action in one screen.

* Combination of three footage segments and four footage segments using Video Merge is supported by PlayMemories Home ver. 3.1.10 (for Windows) / 1.1.10 (for Mac) or later, (Spring 2014).

GPS Data Overlay

Show GPS data stored in Action Cam to display your route and speedometer readings on screen.

How to add GPS overlay

High Speed REC

Use footage shot in high-speed modes for smooth slow motion. Also combine slow-speed and regular-speed footage.

Movie Rotation

Turn footage at 90˚ intervals to show different views of action.

Map View

Use Action Cam images to display your route, plotted on a map.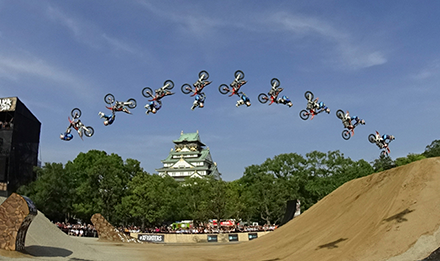 Motion Shot LE
Express the breathtaking dynamism and energy of fast-moving subjects. A sequence of shots taken in continuous shooting mode are superimposed to make one truly expressive photo of action scenes like sports, speeding vehicles and other similar subjects.
*Supported by HDR-AS100V firmware ver. 2.00 or later.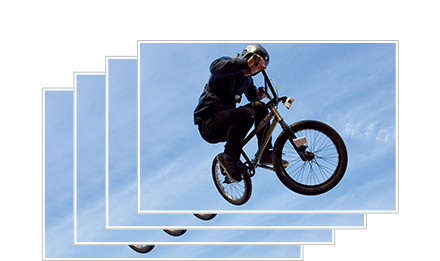 Burst Shooting
Multiple 13.5 megapixel high-quality still images can be shot continuously. This function is convenient when the user wants to capture activity photos and check performance later.
*Supported by HDR-AS100V firmware ver. 2.00 or later.
Upside-down Flip Capture
Even when the Action Cam is shooting from an upside-down position — for instance, when attached to a vehicle — the user can choose a vertical image inversion (upside-down flip) setting prior to operation. Thus, the camera can capture a movie image in regular orientation.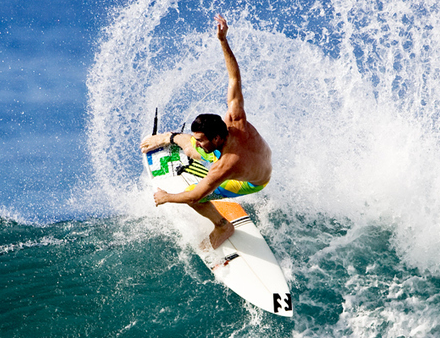 Interval still recording
Interval shooting is convenient for capturing subject motion as a series of photos. Shooting intervals of 1 second, 2 seconds, 5 seconds, 10 seconds, 30 seconds, and 60 seconds can be selected, enabling the user to capture motion of various active subjects not only as movie footage but also as still images. This is especially useful for continuous recording over a prolonged period.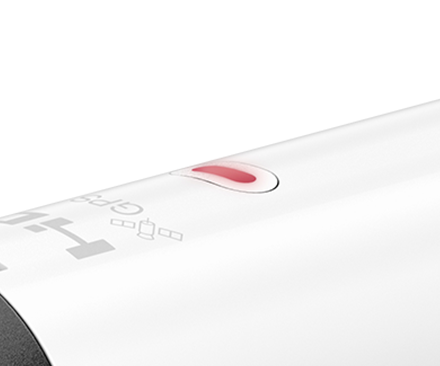 Tally lights
The new Action Cam is equipped with a second tally light on top of the cam, in addition to the previously provided light on the back of the unit. Thanks to this extra light, users can now easily check the cam status (recording start/stop) from various directions.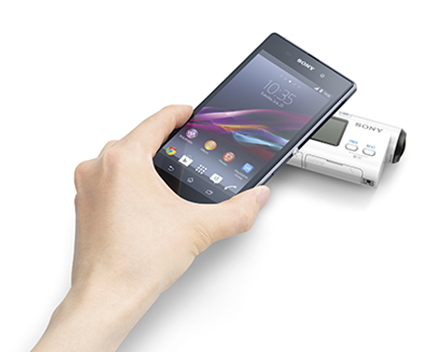 More convenient connection thanks to the Wi-Fi and NFC.
You have NFC support in connecting to smartphones. Thanks to NFC, you only need to touch devices to connect, and no complex setup is required when connecting to Android smartphones and tablets. An Android smartphone equipped with NFC allows remote control connection without the need for complicated settings. You can transfer videos via Wi-Fi.
Ultra wide-angle ZEISS Lens (170°* field of view)
The ultra wide-angle ZEISS Tessar®lens provides a spacious 170°* viewing angle — the perfect way to capture breathtaking scenes of expansive ski slopes and winding mountain trails.
* When SteadyShot is OFF. 120°when SteadyShot is ON.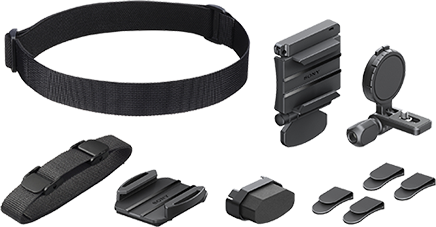 Accessories
Optional accessories expand shooting enjoyment and creative possibilities.
Accessories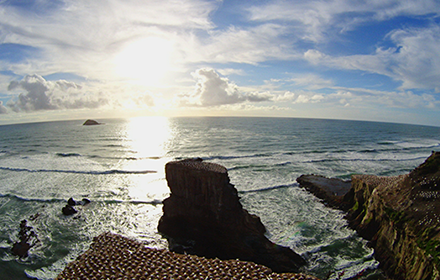 Take stunning still images and more with great features.
Turn action sports into dazzling pictures. Still image mode captures memorable high-quality 13.5 Megapixel photos, and 170° angle of view shows your experience as you see it.
HDMI output for large-screen viewing
Support for HDMI makes it easy to share content with family and friends on HD TVs. (HDMI cable not supplied.)
Use Underwater White Balance mode for aquatic adventure.
Capture natural colour results even underwater*. Just set the underwater white balance before shooting and combine diving or snorkeling with the creation of fascinating aquatic video movies.
* Use of MPK-AS3 (optional) is recommended when using Action Cam underwater. However, Wi-Fi does not work underwater.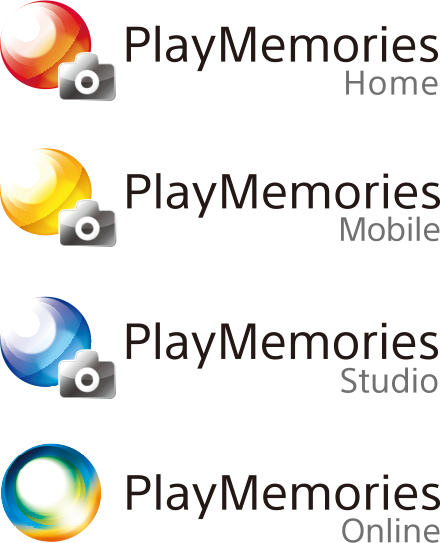 PlayMemories applications
A suite of applications for PCs, smartphones, tablets and PlayStation®3 to expand photographic enjoyment after the shot.
PlayMemories Home™
Free, easy-to-use image management software that installs onto Windows PCs.
PlayMemories Mobile™
Do more with your smartphone or tablet. Share photos and movies directly from the camera or control your Wi-Fi compatible Cyber-shot by remote.
PlayMemories Studio™
Transforms PlayStation©3 into a creative playground for editing, viewing, and sharing photos and movies.
PlayMemories Online™
A fun, cloud-based image-sharing experience that provides unprecedented access to photos and movies.
PlayMemories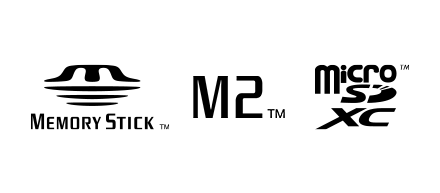 Compatible with Memory Stick Micro and Micro SD/SDHC/SDXC
The memory card slot accepts Memory Stick Micro™ (M2) and Micro SD/SDHC/SDXC Memory Card* (class 4 or higher) memory cards. Choose the card best suited to your shooting requirements and compatibility with your PC. (Memory cards not supplied.)
*Micro SDXC Memory Card class 10 is necessary for recording in XAVC S format.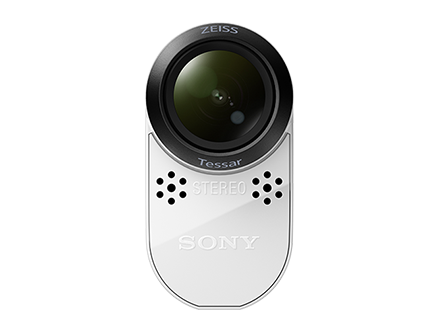 Built-in stereo mic
A built-in stereo microphone allows you to capture all the exciting sounds of your adventure.
Power up with USB Charging/ USB Power Supply.
Simply charge from a PC via USB port. You can also operate and shoot Action Cam without stopping while charging, when using the handy optional AC Adaptor.
Overview
The compact Sony HDR-AS100VR POV Action Cam + Live-View Remote Bundle is designed for point-of-view (POV) shooting during action sports including skiing, snowboarding, skateboarding, surfing, motocross, skydiving, mountain biking and other outdoor adventure sports. It supports up to Full HD 1080/60p XAVC S video at 50 Mbps. It also supports other shooting modes including multiple slow motion modes. You can shoot 1280 x 720p slow motion video at 100 or 120 fps, and 800 x 480 slow motion video at 200 or 240 fps. The camera can also capture 13.5MP still images when using the photo mode.
The HDR-AS100VR features built-in Wi-Fi with One Touch NFC pairing capability. This means that Wi-Fi and NFC enabled smartphones and tablets can pull optimized movies and photos from the HDR-AS100VR without a cable. Once the video is copied onto your mobile device, you can use its 3G or 4G mobile broadband connection to email movies to friends and family or upload your footage to social media sites like Facebook and YouTube. The HDR-AS100VR also features built-in GPS, which allows you to add a geographical narrative to your movies and photos. Plus, Sony's Live-View Remote is included so you can operate and monitor up to five HDR-AS100VR Action Cam's remotely.
Sony includes a ruggedized waterproof housing with the HDR-AS100VR. For added convenience, the waterproof housing has a universal tripod mount. Plus, the camera body includes a tripod mount accessory and it is splash proof as well. The camera's housing is waterproof down to a depth of 16.4' and shockproof from falls up to 5'. The camera is also dirt and dust resistant, which makes it nearly impervious to mud, snow, rain, sand and grime. The HDR-AS100VR is equipped with a 170° ultra-wide angle ZEISS Tessar lens and a back-illuminated Exmor R CMOS image sensor as well.
Other convenient features on the HDR-AS100VR include HDMI connectivity and a built-in stereo microphone for capturing high-quality audio. It's outfitted with a memory card slot that supports Memory Stick Micro cards and microSD/SDHC cards (a class 10 or higher microSDXC card is required to record XAVC S). The card slot supports expandable external memory for virtually endless recording. To compensate for camera shake that's typical when shooting POV sports action, the HDR-AS100VR even features SteadyShot image stabilization with Active Mode.
SteadyShot Image Stabilization with Active Mode

SteadyShot image stabilization allows smooth image shooting while the user is in motion. With the HDR-AS100VR Action Cam, the image stabilizer digitally compensates for minute rapid vibrations that are typically caused by bicycle/motorcycle motion.
Splash Proof Body

The HDR-AS100VR Action Cam was built with an improved splash proof body (IPX4-class). Enjoy carefree use of the camera outside of its included housing - even in rainy weather or splash-prone situations. With a universal tripod screw mount accessory included for the HDR-AS100VR Action Cam itself, you can easily attach the camera directly to a tripod.
Wi-Fi Connectivity for Control and Streaming

The Wi-Fi link allows you to:

Control the camera and monitor a video feed from a mobile device
Control and monitor up to five cameras using a single, separately available RMT-VR1 Live View Remote
Stream live to the U-Stream website when tethered to a device that has an Internet connection
Pair the camera with an NFC-enabled mobile device simply by tapping the two together
Shoot Pro-Quality XAVC S 60p (50 Mbps) Video

Pro-quality XAVC S Full HD 1080p recording with a high 50 Mbps bit-rate enables the HDR-AS100V to capture quick action with smooth image motion. The HDR-AS100VR also supports 24p high-speed 120 fps and 240 fps shooting with sound. Additionally, users can shoot video in the easily shareable MP4 HD format, which is ideal for the web.
Motion Shot LE Mode

Allows you to capture traces of a moving subject in one image so that it appears to be a continuous picture.
Burst Shooting and Self-Timer

Shoot busts of still photos at up to 10 fps. You can set a timer with a delay of 2 or 10 seconds before the camera starts taking photos.
Plot Location & Display Telemetry with Built-In GPS

Built-in GPS can be used in conjunction with the included PlayMemories Home software to make viewing and sharing videos fun and easy. Location and trail information, as well as speed information, add more layers for analyzing your performance. Location, trail and speed info can even be displayed on your video.
Built-In Stereo Microphone for Quality Sound Recording

The HDR-AS100VR Action Cam's built-in stereo microphone allows you to capture all the exciting sounds of your adventure.
Exmor R CMOS Image Sensor

Experience enhanced low-light sensitivity thanks to improved image clarity and drastically reduced grain with Sony's back-illuminated Exmor R CMOS sensor.
Ultra-Wide 170° Pro-Quality ZEISS Tessar Lens

With an ultra-wide angle ZEISS Tessar lens, you can increase your perspective thanks to a 170° viewing angle while you venture out and capture views of dynamic terrain including ski slopes, mountain trails, and more.
Capture 13.5MP Still Images in Photo Mode

Put your HDR-AS100VR Action Cam in photo mode and capture high-quality 13.5MP still images with a single press of the button.
Memory Stick Micro & MicroSD/SDHC Compatible

The HDR-AS100VR Action Cam supports expandable memory thanks to a memory card slot that supports Memory Stick Micro cards and microSD/SDHC cards.
Built-In Stereo Microphone

A built-in stereo microphone allows you to capture exciting stereo sound to match your adventure.
HDMI Output for Easy File Transfer

The HDR-AS100VR Action Cam's HDMI output allows you to share your video with friends and family on your HDTV (micro HDMI cable required/not included).
Other Features
BIONZ X image processor
Multi-segment metering modes
Auto exposure settings
Auto and underwater scene modes
Supports noise reduction
Auto white balance mode
Auto backlight compensation
Date/time stamp
Media/battery indicator provides recordable time and remaining capacity
Airplane mode
BRAVIA Sync
Stereo mini-jack microphone input
Product Specification
Sony HDR-AS100VR Action Cam+ Live-View Remote Bundle
Go To
Camera
Sensor
1x 18.9 Megapixel 1/2.3" CMOS Sensor
Backside Illumination
Yes
Color Filter
RGB
Pixel Gross
18,900,000
Effective Pixels
13,500,000 @ Photo 16:9
Optics
Focal Length

Not Specified By Manufacturer

35mm Equivalent Focal Length
17.1 without SteadyShot
21.8 with SteadyShot
Maximum Aperture
f/ 2.8
Focusing Distance
11.8" / 30.0 cm
Angle of View
170° (without SteadyShot)
120° (with SteadyShot)
Recording
System
NTSC/PAL
Recording Media
Memory Stick Micro, microSD/SDHC 1
Video Format
High Definition
MPEG4-AVC/H.264
1920 x 1080p / 60 fps (50Mbps)
1920 x 1080p / 50 fps
1920 x 1080p / 30 fps
High Definition
MPEG4-AVC/H.264
1920 x 1080p / 25 fps
1920 x 1080p / 24 fps
High Definition
MP4
1920 x 1080p / 60 fps
1920 x 1080p / 50 fps
1920 x 1080p / 30 fps
High Definition
MP4
1920 x 1080p / 25 fps
1280 x 720p / 120 fps
1280 x 720p / 100 fps
High Definition
1280 x 720p / 30 fps
1280 x 720p / 25 fps
Standard Definition
MP4
800 x 480p / 240 fps
800 x 480p / 200 fps
640 x 480p / 30 fps
Standard Definition
MP4
640 x 480p / 25 fps
Aspect Ratio
16:9
Slow Motion Mode
120 fps recorded @ 720 x 120p
100 fps recorded @ 720 x 100p
240 fps recorded @ 480 x 240p
200 fps recorded @ 480 x 200p
Still Image Resolution
JPEG: 13.5 Megapixel
Channels
2.0-Channel Stereo
Display
Display Type
None
Features
Image Stabilization
Digital
Scene Modes
Preset: Yes
Shockproof Rating
5.0' / 1.5 m
Waterproof Depth Rating
16.4' / 5.0 m (Waterproof Housing)
Dustproof Rating
IP4X
Lux
6 (minimum illumination)
Interval Recording
5 sec
10 sec
30 sec
60 sec
Shutter Speed
1/30-1/10000sec
White Balance Modes
Auto
Built-in Mic
Yes
Built-in Speaker
Yes
Built-in Light/Flash
Light - No
Flash - No
Wi-Fi
Yes, 802.11b/g/n
Accessory Shoe
None
Tripod Mount
1/4"
Input/Output Connectors
Outputs
1x HDMI D (Micro)
1x Composite Video (out)
1x USB Micro-B Mass-Storage
1x USB Micro-B Multi Terminal
Microphone Input
Yes
Headphone Jack
No
General
Languages
English
Battery
NP-BX1 Rechargeable Lithium-Ion Battery Pack
Charging Method
AC Adapter
Dimensions (WxHxD)
0.9 x 1.9 x 3.2" / 24.0 x 47.0 x 82.0 mm
Weight
2.36 oz / 67 g