In The Box
Canon EOS 6D (24-105mm) Digital SLR Camera
- Canon EF 24-105mm f/4.0L IS USM AF Lens
Canon Eyecup Eb
Canon R-F-3 Camera Cover
Canon Wide Neck Strap EW-EOS 6D
Canon LC-E6 Battery Charger
Canon LP-E6 Rechargeable Lithium-Ion Battery Pack 1+1 Extra Battery LP-E6N offer till 30Sep2016)
Canon AVC-DC400ST Stereo AV Cable
Canon IFC-200U USB Interface Cable - 6.9' (1.9 m)
Canon EOS Digital Solution Disk
Canon Camera Instruction Book
Canon Software Instruction Book CD
Canon Pocket Guide
Canon Digital Learning Center Leaflet

Register Online at www.ylwc.canon.my for an "Additional 2 Years Warranty" till 30Sep2016)
Product Features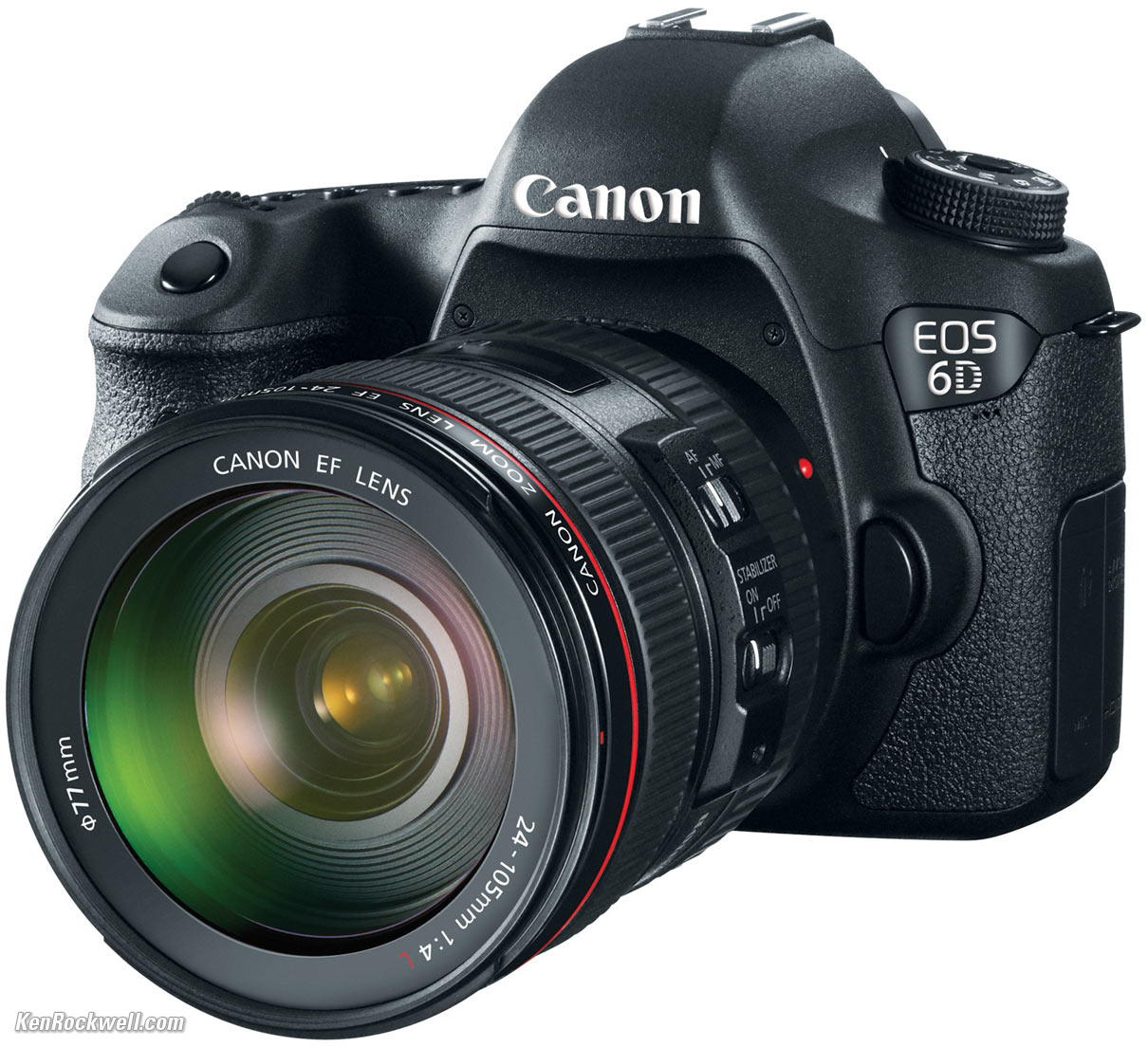 The Canon EOS 6D digital slr is the smallest and lightest camera offers a pixel of 20.2MP and standard ISO range of 100-25600, expandable down to 50 and up to 102,400. Canon 6D front profile is very similar to the Nikon D600, but it's rather slimmer front-to-back, and lighter too.
The Canon EOS 6D integrated Wi-Fi unit has the basic functionality you might expect, allowing transfer of images to a smartphone and direct upload to social media sites such as Facebook and YouTube.
The Canon EOS 6D gains Canon's silent shutter mode that we saw on the 5D Mark III, which offers quieter, more discreet shooting. It gets in-camera HDR and Multiple Exposure modes, but disappointingly these are JPEG only, unlike on the 5D Mark III that also records RAW files. There's also a single-axis electronic level to check for wonky horizons.
In concert with the DIGIC 5+ processor it offers a standard ISO range of 100-25600, expandable down to 50 and up to 102,400. The AF system has 11 points, but only the central one is cross-type (i.e. sensitive to both vertical and horizontal detail). However according to Canon to will operate at extremely low light levels; right down to -3 EV – a stop dimmer than the 5D Mark III.
The GPS unit includes exactly the same functionality as on the company's compacts - it can embed location data into every image, and has a logging function that can keep track of where you've been through the day. This, we suspect, will be most-popular with landscape and travel photographers.
You can also send images directly to a Wi-Fi-enabled printer. But we think more photographers are likely be interested by the fact that it can also be used to turn your smartphone into a wireless remote control via Canon's EOS Remote app for iOS or Android, complete with live view and full control of exposure settings.
Canon EOS 6D Features
Canon 6D 20.2MP full frame CMOS sensor
Canon EOS 6D DIGIC 5+ image processor
ISO 100-25600 standard, 50-102800 expanded
4.5 fps continuous shooting
'Silent' shutter mode
1080p30 video recording, stereo sound via external mic
11 point AF system, center point cross-type and sensitive to -3 EV
63 zone iFCL metering system
97% viewfinder coverage; interchangeable
Screens (including Eg-D grid and Eg-S fine-focus)
1040k dot 3:2 3" ClearView LCD (fixed)
Single SD card slot
Built-in Wi-Fi and GPS
Single-axis electronic level